The Orang Asli (OA) or "first people" have long been ignored when it comes to battling the threat of climate change in Malaysia. Indeed, they and other indigenous tribes in Malaysia did not make an in-person representation at the 2021 United Nations (UN) Climate Change Conference (COP26)[1].
As a marginalised group, the Orang Asli are especially vulnerable to the negative impacts of climate change. And because of this, they have also become one of the primary frontliners in this environmental war.
Climate Change, A Threat To Orang Aslis' Livelihoods
It is the upcoming generation who will endure the devastating brunt of climate change, especially the Orang Asli, whose lands are the marks of their identity and the legacy of their arts, culture, and tradition. – Ili Nadiah Dzulkafar, KAMY chairperson and Wendi Sia, Gerimis Art Project (GAP) co-founder and coordinator[2]
The OA are people with a strong relationship with their environment and nature. But this bond with nature is a fragile one easily broken by climate change and shifting weather patterns. It is for this reason that climate change is more than just a topic one brings up in casual conversation, for the OA it is a battle they are fighting.
Like many indigenous groups in Malaysia, the OA still largely depend on the rainforest for their living. There, they hunt, fish and gather wild fruits for food as well as collect honey and other natural products to sell locally. Some groups such as the Jakun people also practice subsistence farming, growing crops such as rice, corn and spinach together with indigenous plants[3]. Unfortunately, these vital sources of food and income are particularly vulnerable to climate change.
Changing weather patterns may result in sudden seasonal changes that will kill crops and cause fruits to grow out of season. Longer dry seasons will also cause lakes and rivers to dry up, depriving communities of their supply of fish, which for many communities is not just a vital food but a major part of ceremonial traditions[3].
It was the month of July when it was supposed to be hot and dry and it is a customary practice to prepare the land in the seventh month. Then, every new year in January is the harvest season, but the conditions of dry and wet seasons shifting mean generations-old traditions are threatened. – Wendi Sia, Cofounder of Gerimis Art Project (GAP)[2]
Floods are another problem that plagues many OA villages. The December 18th 2021 floods, for example, had wreaked havoc on 14 OA settlements[4], with these villages being cut off from each other by the rising floodwater[5] and thus making rescues and supply drops more difficult[4]. Around 480 houses in these settlements were also submerged[1], forcing the villagers to evacuate to safer grounds where the only shelter was meagre tents.
In Kampung Jeram, Kedah, for instance, 387 OA villagers were forced onto the higher ground after their homes were inundated with floodwater[4]. With weather and rainfall patterns becoming more unpredictable as a result of climate change, devastating floods like these will only become more frequent. And given that many OA communities lack much of the same basic resources as other Malaysian citizens such as transportation, they will be among the worst hit by these disasters.
All the villagers are deeply traumatised by the recent floods. There are more than 250 people living here and we are in fear every time it rains. – Aba Chahim, Kampung Orang Asli Paya Lebar committee chairman[6]
Deforestation Causing A Deficit In Food Source, Natural Remedies And Religious Traditions
It is not just food that the OA collects from the jungle. The knowledge and usage of medicinal plants harvested from the jungle have been an age-old traditional practice passed down through the generations, representing an important aspect of their health, spirituality and longevity.
In the case of tribes with poor access to modern medical facilities, traditional medicine is their only option for curing ailments[7]. Biodiversity loss accelerated by climate change is, unfortunately, threatening this ancient tradition. Many important medicinal plants such as tongkat ali, kacip Fatimah, and gajah beranak are being depleted from our forests, a problem not just for the OA but also for medicinal research overall as over 40% of pharmaceuticals and landmark drugs such as aspirin originated from traditional medicine[8].
Finally, there is the threat climate change poses to the OAs' religion and ceremonies. About 70% of the OA population practise traditional animistic beliefs[9] strongly based on protecting nature and fostering a common link between people and the natural world. This belief forms the basis of many traditional holidays and celebrations from the Dayuk people's Gawai Dayak[9] to the Kadazan-Dusuns' Pesta Kaamatan[10].
These festivals celebrate the bountiful harvest season and mark the beginning of the new farming season. But with climate change affecting both the seasons and crops, the OA peoples will find it more difficult to celebrate what their religions hold most dear. And without the bounty of nature to provide for them, do they truly have any basis for their beliefs?
Their religion is the religion of spirituality, they have good moral values, and respect for nature and nature is their faith. – P. Waytha Moorthy, Minister[11]
Indigenous Eco-Protectors
All is not lost, however. The OAs have been working together with changemakers to help safeguard themselves, their culture and their environments against the oncoming tide of climate change.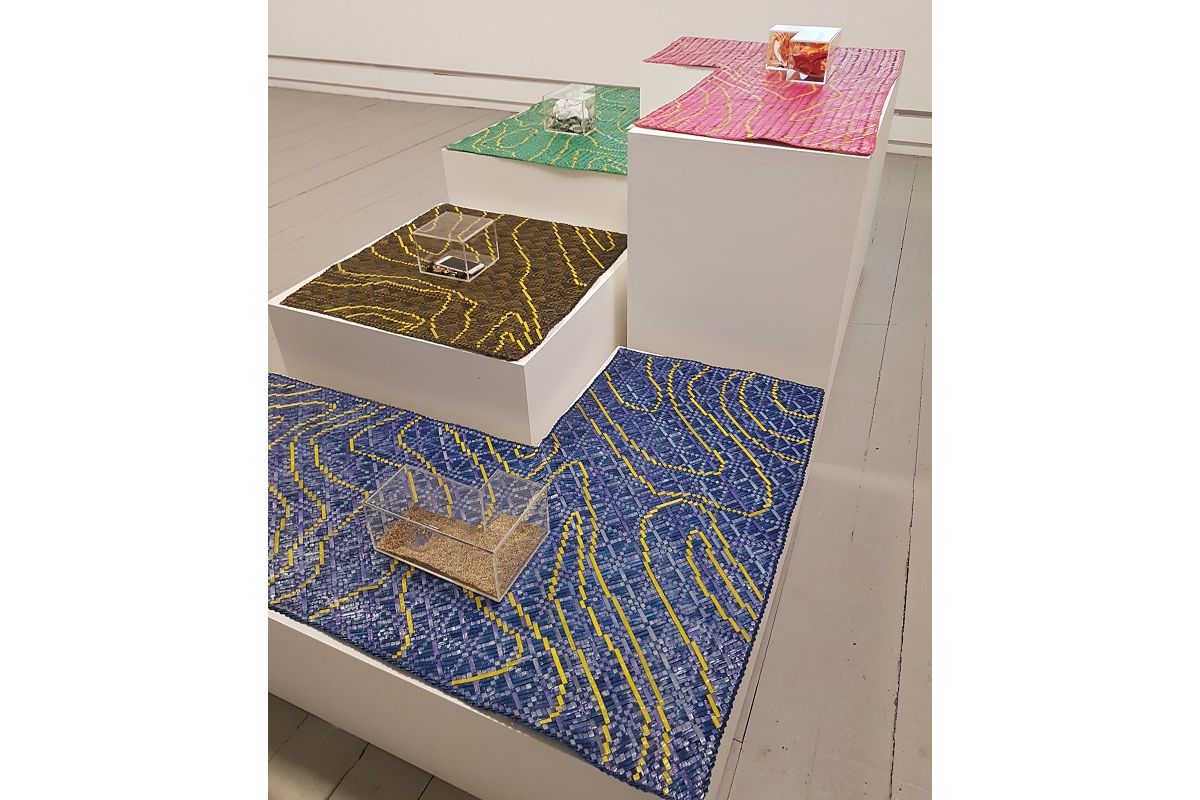 Although the OAs were not represented in person at COP26, they made their presence known through an exhibition of their traditional woven artwork in Glasgow, Scotland where the conference was held. This was part of the Weaving Hopes for the Future project, organised by the NGO Klima Action Malaysia (KAMY), Students for Global Health UK and Gerimis Art Project (GAP)[1].
Through education on climate governance and capacity building within our shared member base, we also want to empower the youth to raise their voices. – Amiteshwar Singh, Students for Global Health (SfGH) secretary[2]
Featuring woven art pieces crafted by 11 indigenous youth and women from the Jakun, Jah Hut and Temuan tribes in Peninsular Malaysia, the project aims to tell the story of the indigenous people of Malaysia, the threats they are facing and how they have become the frontliners against climate change[1].
This role that the OAs are playing has become even more important in light of the Malaysian government's commitment to halting or reversing deforestation by 2030, given that for years, OA communities have been protesting against the de-gazettement of the forest reserves where they live. By protecting these natural places that they hold sacred, the OA also protects vital carbon sinks, ensuring that we have a barrier against the carbon emissions responsible for climate change[1].
I really hope that the government takes this more seriously, especially when it comes to native sacred land. These lands have been protected by the Orang Asli communities and it's much more than just a forest to them. These are carbon sinks, water catchment areas, and it's important to their native culture and tradition. – Hailey Tan, KAMY deputy chairperson[1]
OA communities have also become forerunners in environmentally-sustainable, fair trade agriculture with the help of OA Organik and the Indigenous Peoples Assistance Facility (IPAF).
OA Organik began in December 2015 as a community farming enterprise at Kg Ulu Gumum, bringing together the local OA communities to construct a sustainable community farm. After six months of back-breaking work (with 11 months of community preparation workshops and garden workshops prior), the farmers were rewarded with bountiful produce in June 2016. Since then, OA Organik has become a competitive supplier of fresh produce in places such as Jaya Grocer in Kuantan City Mall, Kuantan and PJ Starling Mall, and Damansara Uptown[12].
The IPAF had funded a two-year project (approved in 2015) that focused on improving the livelihoods of the Jakun people by strengthening their social enterprise, improving access to fair markets, strengthening cultural values, and enriching the diversity of their sustainable agriculture. This project involved planting corn and spinach together in a symbiotic relationship, preserving knowledge of traditional basket weaving and providing access to fair markets[3].
These agricultural projects help build resilience amongst the OA communities, provide a stable source of nutrients and income and create an environmentally sustainable and economically-competitive form of agriculture with a focus on traditional farming methods.
Finally, the OA's knowledge of medicinal plants will prove valuable for pharmaceutical research. The traditional medicinal knowledge of many tribes such as Mah Meri can serve as a starting point for research into novel pharmaceuticals[7]. Thus, when OA communities protect forest reserves from de-gazettement, they also protect these valuable plants from extinction.
Changemakers Helping The Orang Asli Community
The following are changemakers and NGOs who are providing help and support to OA communities in their fight against climate change:
Klima Action Malaysia (KAMY): A youth-led climate justice organisation that pushes for the Malaysian government to declare an environmental emergency, as well as empowering marginalised groups such as the indigenous communities.
Indigenous Peoples Assistance Facility (IPAF): An innovative funding instrument that indigenous communities can use to find solutions to the challenges they face. The objective of the Facility is to strengthen indigenous peoples' communities and their organisations. It finances small projects that foster self-driven development.
OA Organik: A fair-trade community enterprise working in partnership with the OAs in Malaysia. Provides capital, training, appropriate technology and marketing support to OA communities and empowers them to cultivate eco farms and provide high-quality organically grown produce.
Gerimis: The Gerimis art project began in 2018 as a means of reconnecting the OA with their traditions and culture through art and culture.
Explore our sources: