Every year parents go through a mental list of requirements and criteria before enrolling their child into school. Parents living in urban areas have the opportunity of choosing from a list of schools, from international schools to homeschool centres, whereas, for parents in more rural areas, they have little or no choice at all.
Parents enrolling their children into public school may have quite similar criteria such as overall good academic performance of the school, no major disciplinary issues at the school, adequate and safe school facilities such as labs, libraries and a school hall and qualified teachers.
Some of these photos may be the exact expectation of what a public school would look like:
Here's the problem.
Remember we said that rural parents have little or no choice at all when it comes to picking schools for their children, this is especially true in less developed states in the nation. Having a school within walking distance is like receiving the golden ticket to Willy Wonka's factory. The right to receive basic education is still inaccessible for some children. Getting to school requires walking long distances,[1] wading through muddy roads, crossing precarious bridges, or even taking a boat.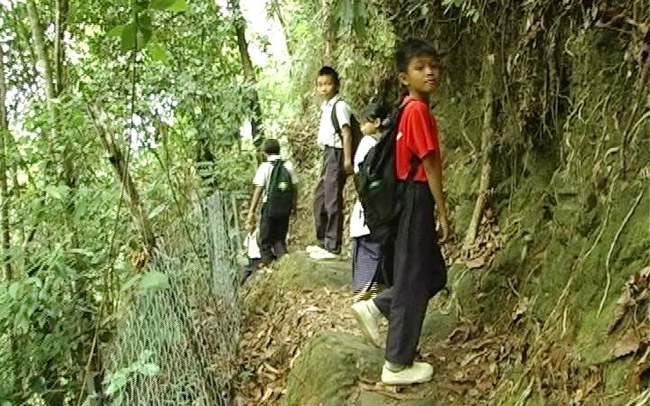 These are the schools and school children from rural communities.
In Malaysia, there are hundreds of schools that are classified as non-functional, lacking facilities and not to mention so hazardous that they have been called 'life-threatening'. Some schools lack basic essentials like clean water, electricity and even classrooms. These schools can be found all over our country particularly in rural areas, especially in East Malaysia. However, these conditions don't seem to deter children from attending school. Studies show an uptake in enrolment[2] throughout Malaysia.
Harsh Reality Of School For Some Students
In Sabah alone, out of 1,296 schools, 589 (45%) were in the category of dilapidated schools. Budget 2020 allocated RM783 Million specifically to fix dilapidated schools[3] especially those in Sabah and Sarawak, but the pandemic has thrown a spanner in the works. Dr Yusof Yacob, Sabah State Education and Innovation Minister said in a press interview that although approved in 2019, only two schools are under construction before the Movement Control Order (MCO) while 22 other projects, which were under the tender process, were delayed due to the Covid-19 pandemic.[4]
Minister Datuk Seri Michael Manyin, of Sarawak, said there were 1,020 dilapidated schools in the state that did not have any electricity supply, lacked treated water supply and did not have proper road access, including those only accessible by river or sea.[5]
Is This Why People Say Going To School Is A Physical Pain?
The struggle for knowledge cannot be ignored. Families are putting their children in danger in order for them to obtain an education – for a chance at change, a chance at a better future. Let's not forget that schools that are classified as dilapidated still strive to provide children with the same syllabus as the rest of Malaysian public schools. No wonder rural students have to work twice as hard to keep up with the academic performance of students in more developed areas. Isn't it time to narrow the education disparity gap?
Contact us to improve on this list!
Explore our sources: