According to research, the Earth's annual average near-surface temperature for each year between 2022 and 2026 is predicted to be between 1.1°C and 1.7°C higher than pre-industrial levels (the average over the years 1850-1900)[1].
We've already discussed at length the many ways climate change affects us all.
But it may surprise you that climate change is also bad for your savings.
Here are five ways that climate change can affect your finances.
#1: Higher Electricity Bills For Cooler Rooms
And surface temperature mapping conducted by Think City has shown that things have only gotten hotter since. Kuala Lumpur, for example, experienced a rise in temperature from 29.40 degree Celsius (°C) at its highest in 1989 to 31.04°C in October 2019[3].
Suffice it to say, this will all lead to more expensive electricity bills, as we increase our air conditioner usage. This, in turn, will lead to a greater demand for energy that prompts power plants to burn more fossil fuels to meet this demand, adding more greenhouse gases into the atmosphere as a consequence of a vicious cycle.
At the end of last year, the price of coal surged to US$200 (RM846) per tonne, up from around US$50 per tonne in mid-2020; by the end of May 2022, coal prices had risen to US$434 per tonne, with coal accounting for 59% of Malaysia's key source of electricity generation[4].
(Tenaga Nasional Bhd (TNB)) has to make sure the business is sustainable (as a corporate entity), but I hope there will be some form of targeted subsidies for the bottom 40 (B40) group with regards to the electricity tariff. – Ahmed Razman Abdul Latiff, Putra Business School economic analyst[4]
#2: Costly Damage Cause By Floods
With rising temperatures come changes in the weather, leading to more frequent rainstorms and flash floods.
Though once considered to be 'one-every-100-year' events, it is clear that these floods have become more frequent in recent years. In 2021, the Klang Valley experienced one of the worst floods in recent history on December 17 and 18, after two-day continuous rainfall, followed by (minor) floods on March 7 and April 25, 2022[5].
Living in KL is not relevant anymore. It floods after rain, I am wasting my life in traffic. Living costs are high. It is causing so much stress that it may turn into burnout. We want a long life. – Syamil Yusri, Twitter user[6]
Recovering from flood damage is an expensive endeavour. The floods of mid-December and early January, for example, have caused an estimated RM6.1 billion (S$1.97 billion) in overall losses, according to a government report on Friday (Jan 28th). The Department of Statistics has further stated damage to public assets and infrastructure caused losses of RM2 billion, followed by RM1.6 billion in damage to homes[7].
Floods and other natural disasters resulted in damages to Malaysia amounting to RM8 billion, equivalent to 15.5 Equanimity yachts (based on Genting Malaysia Bhd's purchase price of RM514 million), with the average damage suffered over the last two decades amounting to 0.13% of GDP[8].
It took more than 20 years to build up the business, but within a few hours, everything was gone. It will take time to recover. – Tommy Ng, store-owner in Taman Sri Muda whose business was affected by the December 2021 floods[9]
Indeed, about 73% of the damage suffered by Malaysia over the past 20 years from natural disasters was due to floods. And in the last two decades, floods have affected over 770,000 people in the country[8].
#3: Rise In Insurance Premiums
With the damaging repercussions of natural disasters, many are looking to get insured and safeguard their properties. And with the flood risk in Malaysia expected to rise by 65% in the next 50 years, more people are turning to get insured against damages[10]. While most insurers will be fair, others will likely raise their premiums to compensate for higher environment-related risks.
In its report on property insurance, Swiss Re forecasted that premiums will rise 22% by 2040 owing to weather-related catastrophes[11].
Even health costs will rise with higher temperatures leading to health problems such as heatstroke, respiratory diseases and mosquito-borne illnesses.
For those who often work outside, be careful if the weather is too hot. The risks from a high temperature or heatwave include dehydration, heat cramps, heat exhaustion and heatstroke which can worsen a person's health condition. – Muhammad Helmi Abdullah, Director-general of the Malaysian Meteorological Department (MetMalaysia)[12]
Between 2030 and 2050, WHO estimates climate change to cause about 250,000 additional deaths per year from malnutrition, malaria, diarrhoea and heat stress. The direct damage costs to health are expected to be between US$2 billion (RM9.15 billion) and US$4 billion (RM18.3 billion) a year by 2030[13].
#4: Income Loss For Some, Particularly Farmers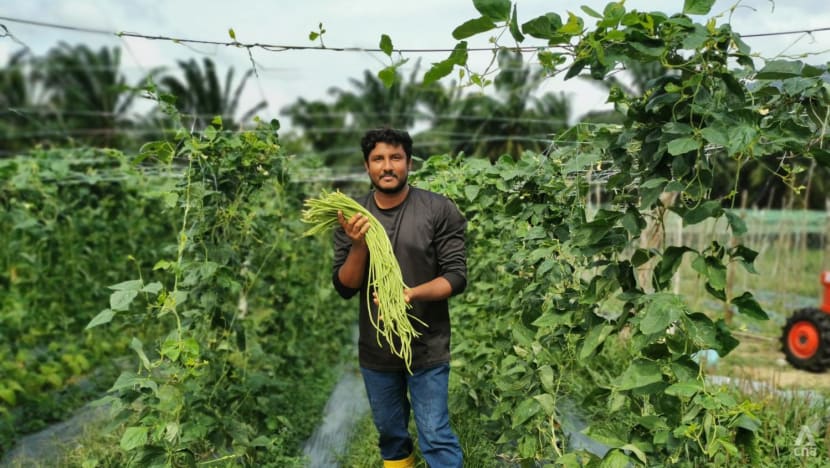 Climate change won't just hurt the planet but also our jobs and incomes.
Climate change won't just hurt the planet but also our jobs and incomes. According to the International Labour Organisation (ILO) of the UN, climate change will result in thermal stress that will result in an economic loss of USD 2.400 trillion (RM109.92 trillion) and 80 million jobs worldwide by 2030[14].
Malaysia's rural farmers are already bearing the brunt of this problem.
Farmers like Naviin Thiagarajan have strict planting seasons, based on an understanding of decades-long established weather patterns, for vegetables like long beans, okra and cucumbers, rotating between the different crops across the rainy and hot seasons. But climate change is throwing those seasonal patterns off, causing these once reliable plans to fall into disarray[15].
From last year (2021) onwards, we started to see how unpredictable the weather has become. And over the last month, the weather has truly epitomised what I have read about climate change. – Naviin Thiagarajan, a vegetable farmer[15]
Heavy rainfall led to devastating floods in Johor, destroying many crop fields. While long dry periods with no rain in sight had also resulted in significant losses, Naviin recounts that he'd lost all 2,000 of his cucumber plants to the intense heat[15].
The floods have of course destroyed many crops. But the last two weeks of no rain and high temperatures have been just as bad. I planted 2,000 cucumbers and all of them died because of the heat. – Naviin Thiagarajan, a vegetable farmer[15]
#5: Rise In Food Prices
Food security is a problem caused by climate change and will lead to malnutrition and based on findings by the United Nations Population Fund (UNFPA), Malaysia has one of the highest malnutrition rates in the ASEAN region. – Dr Milton Lum, past president of the Federation of Private Medical Associations[16]
A decline in the yields of staple crops like rice and vegetables will lead to shortages and rising prices. Such is the case in 2021 when heavier-than-usual monsoon rain badly affected vegetable farmers in Cameron Highlands. The poorer harvest led to the price of vegetables increasing between 30 and 40% in 2021[17].
The heavy rains simply make it unsuitable for vegetables to grow. The fertilisers are washed away and the roots are exposed, the extra moisture makes them susceptible to rot, and they do not get enough sunshine to grow. – Chay Ee Mong, Cameron Highlands Vegetable Growers Association secretary[17]
This is especially troublesome for B40 communities who will now find it more difficult to afford a healthy, balanced diet and thus resort to processed foods to get by.
We used to have meat at least once every one or two weeks when both of us were working. But now, we only have it on special occasions like Deepavali. Even chicken or fish is once in a while. – Sushila M., housewife and babysitter[18]
Explore our sources