While most of us are concerned about plastic waste and the attempts to recycle (or upcycle) them, we must also spare a thought for other forms of waste, particularly paper.
Although Malaysia is not a major producer of paper (the total capacity for pulp and paper production is over 1 million tonnes per year) compared to some of the largest paper-producing countries like China, the United States, and Japan, we still use a staggering amount of paper[1]. Indeed, industry players estimate that local paper consumption is currently close to a million tonnes each year[2].
Moreover, paper and paper products generate the largest portion of municipal solid wastes[3]. Every month, over 57,000 tonnes of paper which can occupy 456,000 cubic metres of landfill space are thrown into landfills in Malaysia. This is equivalent to chopping down 680,000 trees of marketable size[3]. In fact, 25% of landfill waste and 33% of municipal waste is paper waste[1].
With our country still losing significant rainforest cover (as of 2021, Malaysia lost 123 kilo-hectares of natural forest, equivalent to 87.2 metric tonnes of CO2 emissions) learning how to recycle our paper wastes is key to improving our sustainability and conserving our forests.
What Is Paper Recycling?
Paper recycling refers to turning waste papers into new paper products. Generally, there are 3 categories of paper that can be used for making recycled papers[3]:
Mill broke refers to paper trimmings and scraps from paper manufacturers which are recycled internally in paper mills.

Pre-consumer wastes are materials which left the paper mills but are discarded before becoming ready for customers' use. These include corrugated cartons, old newspapers, old magazines or old telephone directories and office papers.

Papers that are suitable for recycling are called 'scrap papers' and are usually used to produce moulded pulp packaging.
The paper recycling process goes like this[4]:
Step 1: Collection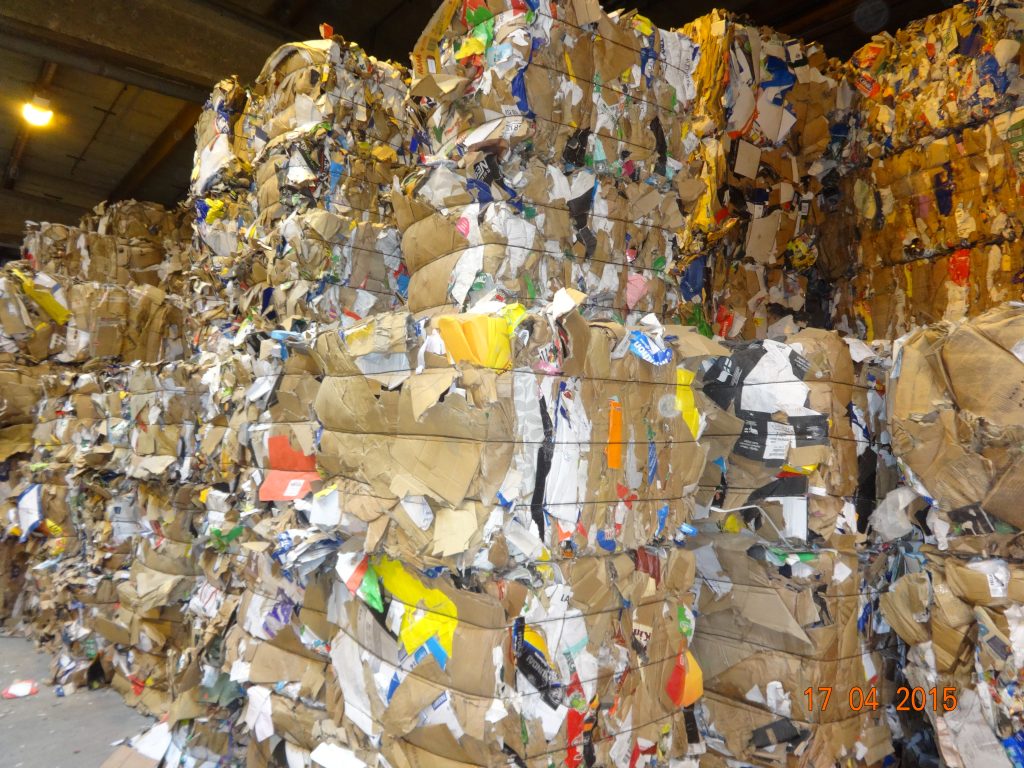 The first step in paper recycling is collecting discarded paper and sending it to recycling facilities. Paper is placed in a separate recycling bin to keep it away from other waste products. Contaminated paper, such as paper soiled with food, grease, or harmful chemicals, cannot be recycled and will be diverted to a landfill.
Step 2: Transportation and Sorting
With the paper placed in the proper bin, a waste and recycling hauler will come to collect it and transport it to a materials recovery facility (MRF) to be sorted.
At the facility, the paper is measured and sorted into separate categories, as certain paper products will be processed differently depending on their type. For instance, glossy magazine paper will be treated differently than a standard piece of printer paper, so they need to be sorted separately.
Step 3: Shredding and Pulping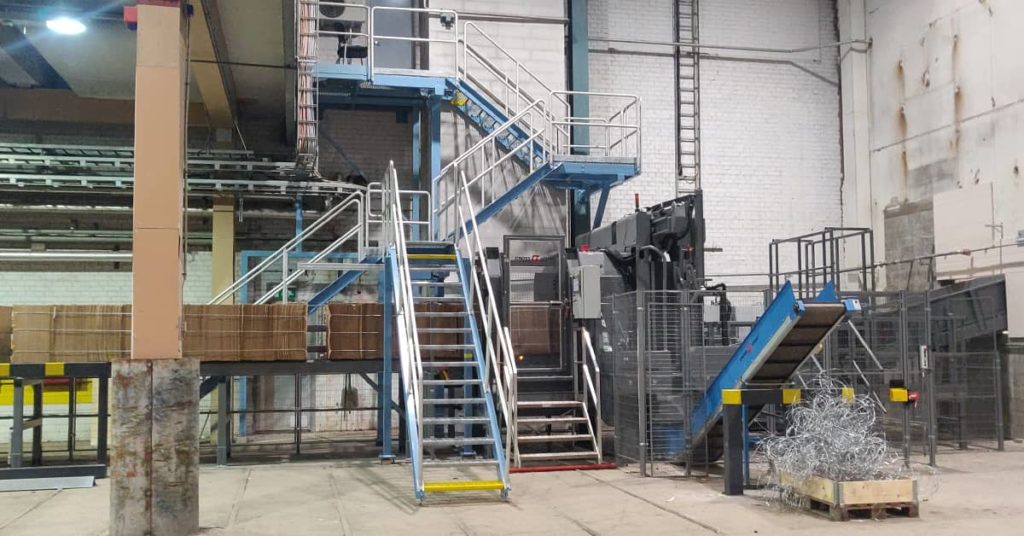 After the paper has been sorted and checked for contaminants, it is baled together and sent to a paper mill, where the recycling process truly begins.
At the paper mill, paper is shredded down into small scraps. Large amounts of water and chemicals, like hydrogen peroxide, sodium hydroxide, and sodium silicate, are added to the shreds to further break down the paper into separate paper fibres. The result is a mushy concoction known as pulp, the raw material that is used to make recycled paper. (This process is known as pulping.)
Larger contaminants, such as paper clips, staples, and tape, are screened for and removed from the pulp before it moves to the next step.
Step 4: De-Inking
After large contaminants are removed, the pulp is placed in a large floatation tank with more chemicals and air bubbles. As a result of the chemicals and air bubbles in the pulp, dyes and inks are removed, enhancing the purity and whiteness of the pulp.
At this point, dyes can also be added to create coloured paper.
The pulp which is 99% water-rich and 1% fibre is then transferred to a paper machine.
Step 5: Drying
The final step sees the pulp pass through massive rollers, squeezing out excess water from the mixture. With the moisture removed, the pulp is then sent through heated rollers to form long rolls of sheets of paper. Paper products are produced from the rolls by various manufacturers.
What Can Paper Be Recycled Into?
There are plenty of useful things that paper can be recycled into. Interestingly, products made from recycled paper cost almost the same as ones gotten from other sources. That by itself is a strong enough incentive to encourage and improve paper recycling in our country[4]:
Office paper: The most common use of recycled paper. It is available at various office supply stores. It also comes in a variety of colours.
Tissues and Toilet paper: These products are made from recycled coloured and white paper. The processor rinses them several times to remove the dye and sterilise them. While some are bleached, naturally coloured tissue and toilet paper are available.

Napkins and Paper towels: Recycled paper waste can also be used to make paper napkins which are used at various parties or events.
Greeting cards: Greeting card companies are seeing the potential in recycled paper. From birthday cards to wedding invitations, the spotlight has been turned on recycled paper. If you would love to get a greeting card made from recycled paper, check the back of the card. There should be information on whether the card is made of recycled paper or not.
Cardboard: Cardboard materials are handy and an essential part of every grocery store. Cardboard is used for packaging many items like pizza, groceries, cereals, eggs etc. Most online orders even come in cardboard derived from recycled paper. The next time you order a pizza, check the box; it should be labelled as made of recycled paper.
Newspapers and Magazines: Most reading materials are made of recycled paper. Even if you want to be sure, give your local newspaper a call. The next time you feel a magazine has outlived its use, be sure to toss it into the recycling bin instead of adding it to general garbage.
The Current Status Of Paper Recycling In Malaysia
Paper recycling represents the most effective means of reducing paper waste and even deforestation. A study by the University of Southern Indiana shows that recycling one tonne of paper can save roughly 17 trees from being cut down[1].
As of 2021, a total of 372 recycling projects were approved with a total investment of RM15.13 billion, with the paper, printing and publishing industry contributing RM6.11 billion[6]. Despite this, we are still quite far behind as Malaysia's paper recovery rate is considered low at roughly 40%. There are only 100,000 tonnes out of 250,000 tonnes of newsprint a year recovered from the waste stream while a large balance has yet to be recycled[2].
Although people are starting to cut down on their paper usage, the growing population means that demand, in general, will rise, which means higher demand for packaging products[2].
Adding to the problem is the high cost of the paper recycling industry particularly in labour and energy[2].
It is a very capital-intensive industry. Energy cost accounts for about 20% to 25% of our total cost. – Wong Peng Khoon, Muda Paper Mills deputy technical general manager[2]
What Can We Do To Help?
Besides simply sorting our paper waste into the proper recycling bins, there are plenty of ways we can reduce the amount of paper waste we generate in the first place, especially as college students or office workers[1]:
If more than one side of the paper is used, don't throw it away right away, use the other side to prolong its shelf life.
Collecting and binding unused paper to make a notebook is a fun and creative way to extend their shelf life
If you have a scanned copy of a file, do not print it unless needed. Use devices like iPads, tablets, or smartphones or cloud storage to store your files and notes.
Think before you print. Avoid printing an unnecessary amount of pages. If you have a compilation of pages needed to be reproduced, look for pages with fewer inputs you want to get on the papers. Cut and paste them into separate documents together with other pages with similar problems.
Use email to communicate with your colleagues in the office or library.
Encourage friends, family, and coworkers to recycle their paper and to purchase products with the least paper packaging.
Organisations Involved In Paper Recycling
Currently, there are few organisations in Malaysia that are actively involved in paper recycling. These are:
1. Thanam Industry
Thanam Industry began as a family-run business more than 35 years ago. Since then, it has grown into a full-fledged solutions provider for the recycling of scrap metals as well as other recyclable waste such as e-waste and paper. Thanam Industry provides competitive prices and services for customers seeking to sell their scrap metal and e-waste.
2. GS Paperboard and Packaging Group (GSPP)
GS Paperboard & Packaging Group (GSPP) is the largest player in the domestic containerboard segment and the integrated paper and packaging manufacturer in Malaysia with 2 paper machines and 18 converting machines. Working to provide superior products for its customers, GSPP also engages in recycling as part of its business strategy. Almost all GSPP products are made of 100% recycled waste paper sourced from the trades, offices, shops and homes by our Waste Paper Collection Centres all over Malaysia.
3. MUDA
MUDA pioneered paper-milling in Malaysia and today owns one of the largest and most diverse integrated paper products manufacturing companies in Malaysia that continues its mission to provide the best-value supply to its customers. Through its integrated process, MUDA ensures that all of the wastepaper it collects is recycled into high-quality paper products made from 100% recycled fibres.
4. YMrecycle
Since 1998 Yit Mun Enterprise Sdn Bhd has been committed to providing a complete waste management service & solution to its customers. Since 2015, they are also a member of Majlis Perbandaran Subang Jaya's (MPSJ) recycling and waste disposal panel.
YMrecycle has an extensive range of collection centres located in USJ 1, Subang Jaya. These centres collect various types of wastepaper including old corrugated cartons boxes, waste from printing presses, old newspapers, old books, magazines and etc.
Explore our sources: